---
Uber to merge China business with rival Didi Chuxing, reports say
---
Ride-hailing firm Uber has reportedly agreed to merge its business in China with much bigger rival Didi Chuxing.
According to Bloomberg, the $35bn (£26bn) deal will give Uber China, which is owned by US-based Uber, Chinese internet giant Baidu and others, a 20% stake in the company.
Uber China launched in 2014 but so far has failed to make any profit.
The two have been fierce competitors for years but Didi Chuxing has remained the dominant market leader.
As of May, Didi Chuxing said it provided more than than 11 million rides a day and claims to have 87% of the market share in China.
The company is backed by Chinese internet giants Tencent and Alibaba, and has also invested in Uber's rival US ride-sharing service Lyft.
Big losses
"Funding their China dreams was becoming too expensive for Uber," Duncan Clark, chairman of Beijing-based consultancy BDA, told the BBC.
"Many saw it as an obstacle to their own IPO (Initial Public Offering)."
Uber has been struggling to break into the Chinese market despite having Chinese search engine Baidu as an investor.
In February, the company admitted it was losing more than $1bn a year in China, spending huge sums to subsidise discounted rides.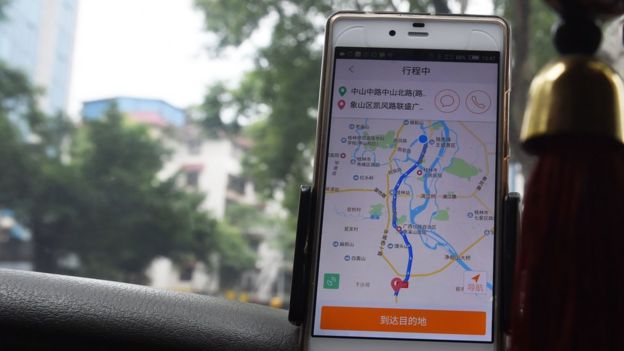 "One thing to watch carefully is how quickly consumers feel the impact as subsidies are withdrawn," Mr Clark added.
The fierce rivalry had led both companies to heavily subsidise their rides. The merger is likely to see fewer such subsidies.
New rules
The reported deal with Didi Chuxing comes just days after China agreed to provide a legal framework for ride-hailing apps.
Both Uber and Didi have welcomed the decision, having previously operated in a legal grey area in the country.
While the ride-hailing apps are widely popular, they have undermined business for normal taxis and have been met with protests by cab drivers.
The new rules will take effect on November 1 and will amongst other things forbid ridesharing platforms to operate below cost, also likely to restrict the scope to offer subsidies.
---