---
Pedro: Chelsea agree deal for Barcelona winger
---
Warning
: preg_match(): Compilation failed: invalid range in character class at offset 4 in
/home/trulegal/public_html/wp-content/plugins/lightbox-plus/classes/shd.class.php
on line
1384
Warning
: preg_match(): Compilation failed: invalid range in character class at offset 4 in
/home/trulegal/public_html/wp-content/plugins/lightbox-plus/classes/shd.class.php
on line
1384
Warning
: preg_match(): Compilation failed: invalid range in character class at offset 4 in
/home/trulegal/public_html/wp-content/plugins/lightbox-plus/classes/shd.class.php
on line
1384
Warning
: preg_match(): Compilation failed: invalid range in character class at offset 4 in
/home/trulegal/public_html/wp-content/plugins/lightbox-plus/classes/shd.class.php
on line
1384
Warning
: preg_match(): Compilation failed: invalid range in character class at offset 4 in
/home/trulegal/public_html/wp-content/plugins/lightbox-plus/classes/shd.class.php
on line
1384
Warning
: preg_match(): Compilation failed: invalid range in character class at offset 4 in
/home/trulegal/public_html/wp-content/plugins/lightbox-plus/classes/shd.class.php
on line
1384
Warning
: preg_match(): Compilation failed: invalid range in character class at offset 4 in
/home/trulegal/public_html/wp-content/plugins/lightbox-plus/classes/shd.class.php
on line
1384
Warning
: preg_match(): Compilation failed: invalid range in character class at offset 4 in
/home/trulegal/public_html/wp-content/plugins/lightbox-plus/classes/shd.class.php
on line
1384
Warning
: preg_match(): Compilation failed: invalid range in character class at offset 4 in
/home/trulegal/public_html/wp-content/plugins/lightbox-plus/classes/shd.class.php
on line
1384
Warning
: preg_match(): Compilation failed: invalid range in character class at offset 4 in
/home/trulegal/public_html/wp-content/plugins/lightbox-plus/classes/shd.class.php
on line
1384
Warning
: preg_match(): Compilation failed: invalid range in character class at offset 4 in
/home/trulegal/public_html/wp-content/plugins/lightbox-plus/classes/shd.class.php
on line
1384
Warning
: preg_match(): Compilation failed: invalid range in character class at offset 4 in
/home/trulegal/public_html/wp-content/plugins/lightbox-plus/classes/shd.class.php
on line
1384
Warning
: preg_match(): Compilation failed: invalid range in character class at offset 4 in
/home/trulegal/public_html/wp-content/plugins/lightbox-plus/classes/shd.class.php
on line
1384
Warning
: preg_match(): Compilation failed: invalid range in character class at offset 4 in
/home/trulegal/public_html/wp-content/plugins/lightbox-plus/classes/shd.class.php
on line
1384
Warning
: preg_match(): Compilation failed: invalid range in character class at offset 4 in
/home/trulegal/public_html/wp-content/plugins/lightbox-plus/classes/shd.class.php
on line
1384
Warning
: preg_match_all(): Compilation failed: invalid range in character class at offset 4 in
/home/trulegal/public_html/wp-content/plugins/lightbox-plus/classes/shd.class.php
on line
700
Warning
: Invalid argument supplied for foreach() in
/home/trulegal/public_html/wp-content/plugins/lightbox-plus/classes/shd.class.php
on line
707
Warning
: preg_match_all(): Compilation failed: invalid range in character class at offset 4 in
/home/trulegal/public_html/wp-content/plugins/lightbox-plus/classes/shd.class.php
on line
700
Warning
: Invalid argument supplied for foreach() in
/home/trulegal/public_html/wp-content/plugins/lightbox-plus/classes/shd.class.php
on line
707
Chelsea have agreed a deal with Barcelona to sign winger Pedro for a fee of £21m.
The 28-year-old, who was a target for Manchester United, is flying to London to finalise terms on the transfer.
The Spain international is a product of the La Liga club's academy and has scored 99 goals in 326 appearances since his debut in 2008.
He will be Chelsea's second signing in less than a week after the arrival of Ghana defender Baba Rahman.
They are also keen to sign England defender John Stones from Everton, who have already turned down offers of £20m and £26m and, reportedly, a third worth £30m.
Pedro's arrival could result in Colombia winger Juan Cuadrado leaving Chelsea after a disappointing seven months at Stamford Bridge. The Colombia international was signed for £23.3m from Fiorentina in January.
The champions are without a win in their opening two Premier League games for the first time since 1998 after following up their 2-2 draw with Swansea with a comprehensive 3-0 defeat at last season's runners-up Manchester City.
The Blues travel to West Brom on Sunday before a home game against Crystal Palace on 30 August, two days prior to the transfer window closing on 1 September.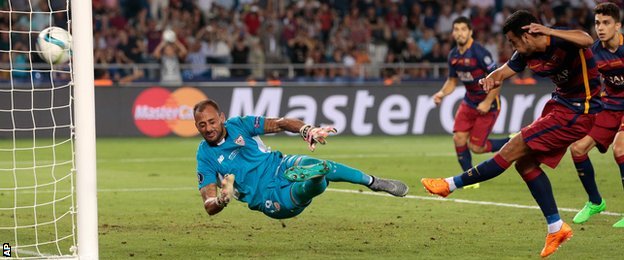 Manchester United were interested in Pedro as they look to replace Argentina winger Angel Di Maria, who has joined French champions Paris St-Germain for £44.3m.
Pedro made 50 appearances for Barcelona last season and has won the Champions League three times, including scoring a goal in the 2011 final against United, as well as five La Liga titles
He also won the World Cup and European Championship with Spain in 2010 and 2012 respectively.
He has made three appearances this campaign and came off the bench to score the winner in the 5-4 Uefa Super Cup victory over fellow Spanish side Sevilla.
---